power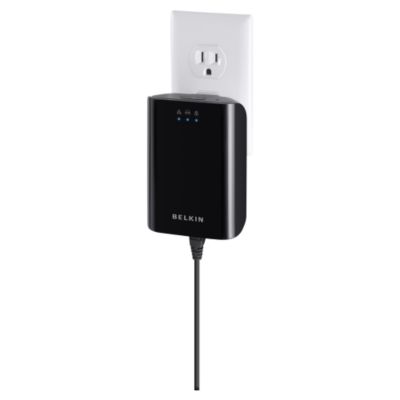 I bought this last week. It allows me to use my house electrical system to send network signal to my xbox. Why not wireless you say? Well, in theory, this is a faster solution. I would need to buy a wireless adapter for my xbox. My microwave will knock out my wireless signal. I used to have a ethernet jack where my TV was, but for some reason, that stopped working, and since the basement has been refinished, I would have to re-drywall the ceiling, which I'm much too lazy to do.
Of course I could attach my laptop to the XBox, and create a bridge connection in order to grab a connection, but that means I would need to turn on my laptop the whole time.
The unit was also on sale for $56 tax-in, shipped to my door. I ordered it Thursday, it arrived Friday. This is a good price for what it is. I mean, even a discounted XBox 360 wireless receiver is $40+.
Anyway (after a firmware flash), the device indeed works, and now I can stream videos from my PC to my TV. Works quite well, and as Bee would attest, Glee episodes work nicely.
The only thing that nags me is that I would need to turn on my PC (big power drain) just to stream videos. The cheaper alternative is to copy what I want to watch on my USB key first, before I stick it in the XBox.
But hey, at least I can finally update my XBox games (that I don't play).